This Snail farming business plan in Nigeria Pdf is regularly updated and can also be used to obtain loans and grants etc.
Snail Farming Business Plan In Nigeria Pdf
Snail Farming in Nigeria is one of the most neglected and yet one of the most profitable animal rearing businesses anywhere in the country. It provides one of the finest opportunities to make good money in a very short time. But why are many Nigerian people not yet fully engaged in snail farming?
The reason is ignorance!!!
Just like in many other aspects of farming in the country, Nigerians are yet to discover the great money-making potential in snail rearing business and that is why we suffer in hunger and poverty.
Sample Business Plan On Snail Farming In Nigeria Pdf –
The good news: If you are interested in getting into snail farming in Nigeria or Africa, After reading this article, you will be on your way to starting your own snail business in easy and simple steps and once you have a business plan you are fully equipped to get into the industry.
Table Of Content
SECTION 1
INTRODUCTION/Executive Summary
VISION AND MISSION FOR THE BUSINESS IDEA
OBJECTIVES OF THE BUSINESS
PROJECT DESCRIPTION
FEASIBILITY OF THE STUDY(Swot Analysis)
LOCATION AND WHY
MARKET ANALYSIS
MARKETING STRATEGY
DEMAND AND SUPPLY
MARKET SHARE (GAP ANALYSIS)
FORM OF BUSINESS AND ITS ESTABLISHMENT
LEGAL FORM OF THE BUSINESS
ORGANIZATIONAL STRUCTURE OF THE BUSINESS
SECTION 2
TECHNICAL ASPECTS
RAW MATERIALS INPUTS REQUIRED FOR THE BUSINESS
BUILDING PROCESS
PRODUCTION PROCESS
INFRASTRUCTURE REQUIREMENTS
ENVIRONMENTAL ANALYSIS
PROJECT TIMELINES
SECTION 3
Financial Forecast and Analysis
Conclusion
Introduction
BRIEF HISTORY OF SNAIL
The African giant snail (Achatina achatina) has coiled shells in their
adult stage. They are hermaphrodites and so, they do not require a partner to copulate. They are oviparous and can lay eggs between 10 and 30days after mating. Eggs laying takes place during the rainy season or when provided with the required food, which are mostly juicy vegetables, constant water, a favourable weather condition of an average of 250C to 300C, and humidity of 80%. The species lays about 200 to 400 eggs in one batch 2 to 3 times a year. It takes about 11 days for its egg to be hatched in the humus-rich soil.
All species of snail get matured for harvesting by the 5th to 7th months and
are actually ready for consumption or marketing. Snails could live as long as 7 to 10 years in their natural habitat.
Executive Summary
Miracle FARM is a Snail Farming and Agricultural Training outfit involved in breeding and selling table-size live snails of different breeds including Archachatina Archachatina, Achatina marginata, etc. selling to Nigeria and the international market.
We ensure we always use the best quality inputs and proper hygienic conditions for our stock at all times. With the right combination of input, we get our snails to reach weight in a quick time. Again, all of our production inputs are organic.
VISION AND MISSION FOR THE BUSINESS IDEA
To improve the standard of living of people through the provision of highly prolific Achatina achatina snail that does not contain fat and cholesterol.
To promote and encourage bilateral relations between Nigeria and other countries by way of trade.
Mission Of The Business:
To make african meat accessible across the globe
A desire to pressure and conserve the very highly prolific species of Achatina achatina snail for future reference, research purposes, recreational activities, and medicinal uses.
OBJECTIVES OF THE BUSINESS
– Constant growth in sales in 12 months.
– To generate customer satisfaction so that at least 60% of our customer base is repeat business.
– product at reasonable prices with exemplary services.
Goal Of The Business
To be a one Stop-Farm in South East for Snail meat and its derivatives in Nigeria.
Our Vision for the Snail Farming Business plan in Nigeria To provide exceptional Snail meat and its derivatives in Nigeria at an affordable cost.
PROJECT DESCRIPTION ( Business Plan For Snail Farming In Nigeria )
Snail farming Business Idea: The business idea was the setting up of a 200
capacity snail farm business in Owerri City, Imo State. The snail of the farm was located at Koro Farm Garden (KFG) in Ohaji Community while the business office was on 34 ikenegbu streets, Owerri Municipal Local Government Area of Imo State.
Conceptualizations Of Idea:
It is a practicable and viable venture yet unexplored in Nigeria.
This technology has been approved for most lucrative farming venture presently, as it requires far less capital investment, which much profit is being generated in a considerable short period.
Virtually every part of snail is of vital use in food, pharmaceutical, manufacturing and fishing industries.
FEASIBILITY OF THE STUDY (Swot Analysis)
The SWOT analysis reveals the strengths, weaknesses, opportunities
and threats of snail farming business in Nigeria.
Strengths:
The following constituted the strengths of the business: Adequate beginning up capital
Adequate start-up capital
Low risks of production
Accessibility to excellent types of snails
Appeal for snails
Good market potential
Best location (area with fresh vegetation)
Best weather condition
Few competitors
Availability of Land space
Weaknesses: The following are my weaknesses:
Delays with Registration (e.g., with corporate affairs commission, C.A.C)
Local competitors (e.g., rural dwellers)
Getting licenses and permits
Opportunities: The opportunities include:
If a grower begins a snail farm with say 50 snails, it can produce averagely up to 250,000 adult snails worth over #500,000 in a year.
The risk of losing snails on the farm is very low compared to other livestock farming.
Huge market demand for snails in Nigeria
Lastly, snails hardly fall sick, they are hermaphrodite; you don't have to buy food, you don't spend much to create an abode for them, they reproduce rapidly and are very important foreign exchange income earner of our days.
Threats:
The basic threats to the business are mainly unsystematic
risks including the following:
Human interferences including vibration and pointless commotion from cars and industries around the enviroment
Brutal lighting torch, lamps and sounds.
Robbery
Pens wetting particularly during the dry season.
The other threats that could affect the business are political and could occur when there is a change of power which may lead to a change of policies.
LOCATION AND WHY
Location: The 200 capacity snail farm business otherwise named
"Miracle Snail Farm Nigeria Limited" is located at:
Koro Farm Garden, Owerri City, Imo State. The above address represented the site of snail rearing
while the address below represented the marketing office:
34 ikenegbu streets, Owerri Municipal Local Government Area of Imo State.
For the remaining part of this business plan, including the detailed financial analysis, call any of our business plan consultants on 08122230861 or send me an email at chibuezemicahe@gmail.com.
Step On How To Start A Snail Farming Business In Nigeria.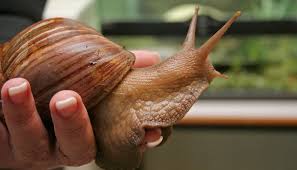 Snails-farming is an environment-friendly venture, because, unlike poultry or pigs, the snail does not have a bad smell. Snails can also be reared in the backyard and snails manure improves the organic content of the soil.
1.. SELECTING SUITABLE SNAIL SPECIE FOR BREEDING:  The edible and most common snail species in West Africa are:
Achatinaachatina or Giant African snail, Tiger snail
Archachatinamarginata or Big black snail, GiantAfrican
Achatina Fulica or Garden snail, Foolishsnail
2. Write a Snail farming business plan in Nigeria pdf:
For you to be able to structure your business properly and run it efficiently you need to be able to create a business plan for your snail farming business in Nigeria.
 3. SOIL: The best soil for snail production is the sandy-loamy soil which is devoid of laterite or mud, which might lead to a waterlogged snail environment. The soil used should also be rich in some minerals, most especially calcium, which is a major component of the snail shells.
4. CHOOSING A SITE
Snails are good at escaping from enclosures. A priority in setting up a productive sail farming venture, therefore, is to construct escape-proof housing. There are several types of snail housing (snaileries) to choose from, depending on the size of the venture. The first step, however, is to select an appropriate site. The main factors to consider in site selection are the following:
(Micro)climate
Wind speed and direction
Soil characteristics
Safety(protecting the snails from diseases, predators and poachers)
5. FEEDING:
Snails most feed on green leaves and fruits though they can choose from a variety of different foods. It is also best to feed them with concentrate feeds specially formulated to meet their nutrient requirements.
6. MARKETING:
A commercial value snail will grow to full maturity in less than a year. It can even be harvested for marketing after 8 months if adequate feeding is applied. A matured snail will sell for close to N500 depending on the size and the cost of breeding a snail from hatching to maturity will not be more than N150, giving a profit margin of close to N350/snail which if multiplied by the large number of snails harvested, will yield a very wide profit margin for the farmer.
One million snails after a year or two sold at the rate of N50 each (highly reduced price) will give about N50 million! Isn't that a good investment?
How Lucrative Is Snail Farming In Nigeria?
If you are wondering how lucrative snail farming is in Nigeria, then you should know that an acre of land under snail cultivation can generate a potential profit of N5 million+, 
Why you should start a snail farm in Nigeria
SNAILS ARE HIGHLY NUTRITIOUS: Snails have become a very much cherished delicacy among a lot of people across the world. This is due to its high nutritional value. The meat is rich in calcium, phosphorous, selenium and other essential minerals plus vitamins.
LOW CAPITAL REQUIREMENT: The capital required to start off a snail farming business is quite low, especially when compared to other agricultural businesses.
AVAILABILTY OF MARKETS: With the population of Nigeria estimated to the tune of about 180 million people. The market for snails is every much large and will not be so difficult for a farmers to dispose of his produce
This shows you why and How Lucrative snail farming is.
Ready To Start Your Snail Farming Business In Nigeria Or Africa?
Maybe you dream of opening your own Snail Farming Business In Nigeria, but you're still working out the details on how to make that dream a reality.
Well we are the leading Business consulting firm in Nigeria and can help you make the process much easier contact us with 08122230861
Get your Snail Farming Business Plan in Nigeria PDF Sample Now 
Business Plans In Nigeria
Poultry Farming Business Plan
Bread bakery Business Plan
Fish Farming  Business
Bottled / Pure Water Business Plan In Nigeria
Sewing And Tailoring Business Plan In Nigeria