How to start a fashion Design business in Nigeria is somewhat easy but may be difficult for those who don't know their onions, in the early seventeenth century we never had anything like clothes in Nigeria but the arrival of the white man turned the table around, and today we have now evolved from wearing animal skin and leaves to wearing native and English attire.
The fashion Design business in Nigeria on the other hand has been growing in the Nigerian business economy all because Nigerians love following the trends as soon as it starts, Cause it's a no brainer that people buy clothes every day that speaks out their personality.
Seeing the potential of the business you're about to start and asking yourself this question "how to start a fashion business in Nigeria" is one of the first steps you have to take and I can tell you're on the right track all you need is Fashion design business plan in Nigeria and requirements needed to start the business.
So first let's see why and how you should start this multi-billion naira business,
NOTE:  Please be rest assured that what you are about to read are the exact details you need to start a fashion business in Nigeria, no other article you'll find on the internet is as well detailed as this.
Why You Need To Start A Fashion Design Business In Nigeria Right Now
The fashion business in Nigeria is an act of manufacturing all types of clothing to suit people's personality; clothing like skirts, dresses, trousers, pants, shirts, socks, suits, underwear, gloves, and other forms of cover.
Most Nigerians see clothing and fashion as a way or method of covering but this does not apply to you as a fashion designer, your job is to get into their head by following the trends and producing what will suit their personality in a way they will love it.

The fashion business is an excellent competitive industry not only in Nigeria but all over the world and a posh one. However, it's an area where you'll thrive within a couple of months of multinational as long as you've got an entrepreneurial spirit in you.
Also, the fashion business in Nigeria is also a large industry that has a large range of business models. For example, you may venture into fabric production, fashion designing, owning a clothing line, marketing or fashion retail, and even cloth modification. All of which needs you to possess a skillset and be a forward thinker and a smart entrepreneur. Although most apparel industry owners are professional fashion designers, it's not the sole prerequisite. As long as you've got an understanding of the fashion industry from a business point of view then nothing can hold you back in succeeding in starting your own fashion business in Nigeria, you may also venture into the style business which is also a lucrative model in the fashion design business in Nigeria.
Types Of Fashion Business In Nigeria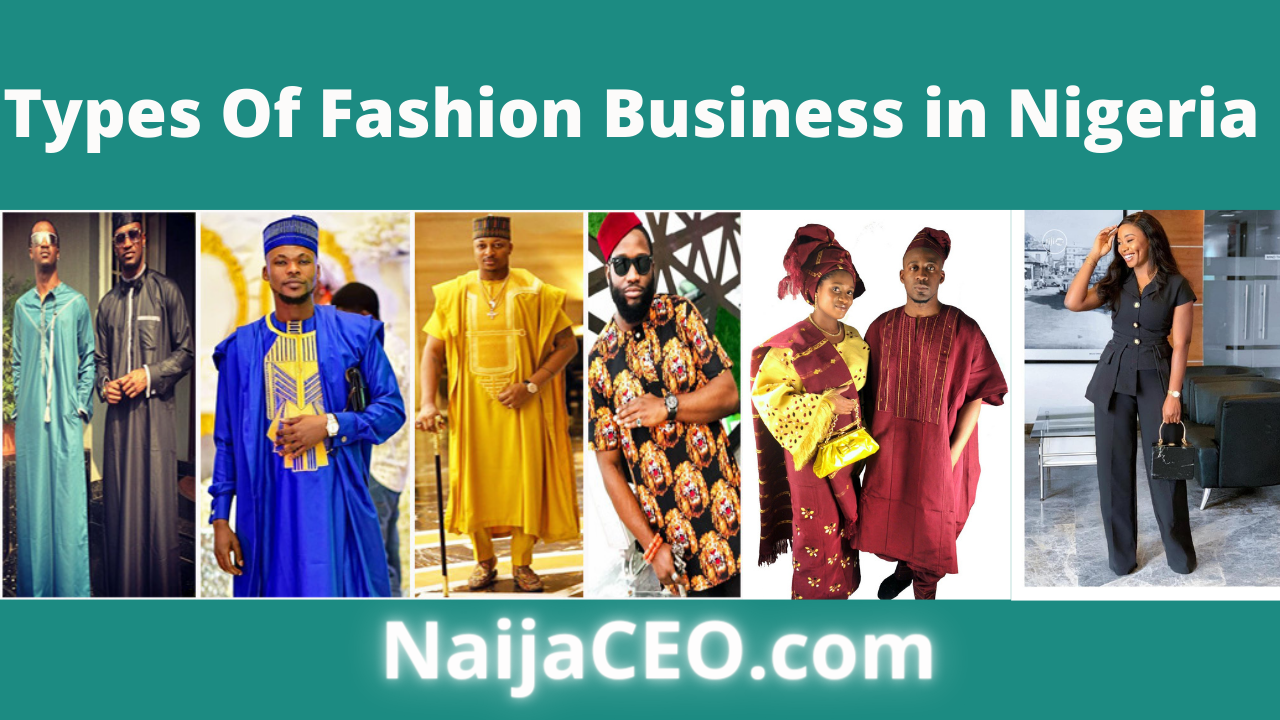 The fashion business in Nigeria is a multibillion naira industry which lots of business models you can venture into but without proper guidance, you might lose your investment, just follow me while I guild you through the mystery and secrets no one will ever tell you about fashion design business in Nigeria.
Fashion retail
Fashion design business in Nigeria
Fashion institute
Fashion import and export
Accessories
Fashion rental
Native fashion
Printing fashion
Fashion Retail
This is an aspect of fashion which include the act of selling already made clothes, attire and materials, this may not require any skills but you've got your fashion sense in the game, an example of this kind of business are boutique and other little stores you find at home or in the market.  Types of fashion retail business in Nigeria include:
Bridal/groom store
Baby's wear store
Men's wear store
Women's wear store
Teens wear store
Used cloths retail
Bridal/Groom Store:
These include stores that only sell weddings clothes, accessories and cosmetics, you may think weddings happen only once in a lifetime but with these guys, they see weddings every day. One thing I like about this business is the big profit margin of the luxurious wedding outfit.
To start this type of fashion business in Nigeria you don't need to be a fashion design guru but you need to know the trends and have international connections to aid the importation of wedding apparel.
Babies Or Children Wear Store:
The most important day of any mother's life is the day they bring another being into life and thus they tend to make it special by preparing for that day. Babies and children fashion is one of the underlooked parts of the fashion design industry in Nigeria but has lots of potentials.
The best location for this type of business is an area close to a maternity, hospital or residential area that way you reach your potential customer better than in a market. This also involves importation from other countries or you can do local sourcing both ways works as long as you buy what your proposed customer needs.
Men's Wear Store:
Adult wear is a core part of the fashion business in Nigeria and men's wear is no doubt part of it, being a man is not easy and balancing the complexity of business and family life can sometimes be tedious but men still tend to show their love for fashion and bring out their personality with simple easy to wear clothes.
This aspect of this industry is full of potential but has but currently the Igbo tribe are currently dominating the industry, don't get me wrong I'm not being stereotypical but all I'm saying is you can do better no matter your tribe or religion, it's just business nothing more.
For this type of business, importation is one of the key factors but local sourcing is not also left out but the major point is following the trends and satisfying your market needs.
Women's Wear Store:
Now, this is where it gets all crazy because women are the grandmasters of trends and fashion, You see, women hold a total of 60% of the fashion market share in the fashion business in Nigeria. Now, this is a huge potential and advantage for both fashion designers and investors alike.
All this business requires is your unique and explicit following of trends, women will buy anything that comes their way no matter the price but on one condition, it must be trending. Importation is paramount in this type of fashion business in Nigeria but local sourcing still goes a long way to preserve our Nigerian culture.
Teens Wear Store
This is also a huge part of the fashion business in Nigeria which involves the sales of teen wear and accessories, if you decide to venture into this type of business it might be a huge win for you because teens also follow trends since they are upcoming generations.
Location is also an important factor in this type of fashion business in Nigeria and goes a long way to help in generating sales, school areas and resident areas work like magic because there you'll find teens who love the trend. You can stick with importation but sometimes local can also help.
Used Clothes Retail:
This is a huge part of the fashion business in Nigeria because it's no longer news that half of Nigerians now wear used clothes and as an entrepreneur, this is a huge business if you decide to invest in it.
It may surprise you but most clothes displayed in the little boutique are nothing but packaged used clothes shipped from USA and UK, just because it is called used clothes doesn't mean it's bad or won't last, in fact, most of them tend to last longer than already made Nigerian clothes. The average Nigerian know this and will always go for top quality used clothes.
Your success rate in this type of fashion design business in Nigeria depends on the quality and newness of your goods, As for trends and fashion it plays a little role here since our target market is trying to cut costs and buy what's beautiful enough to cover their body. Most markets have specific days to sell used clothes.
Fashion Design Business In Nigeria
This is the art of creating or designing a particular material into an artwork that will satisfy a current fashion trend and satisfy a target market. Basically, you are the one creating your own design from an existing work or material.
This will involve your skills, creativity and experience in order to craft a design the market will love, this is the most common type of fashion design business in Nigeria and has been used by thousands all over the world to become billionaires and build a business of their dreams.
Types
Small Scale:
This is the most common and most practised type of fashion design business in Nigeria and has lots of attraction, it involves the conversion of materials into clothes like suits, skirt shirts, shorts, trousers, sleeves, hoods, gowns, native attire etc. This is also divided into three which are men, women and children clothes.
Most of the small scale fashion designers in Nigeria are sex-based and sometimes makes them limited to what they know while some are good in all aspects which is good and healthy for business.
To start the type of fashion design business in Nigeria all you need is 6 months to 1-year of training and a store then you're good to go, you may also venture into some other things related to fashion designing which may bring about huge personal development and the longer your experience the better.
Tips on choosing who to train you
 Niche
(The particular set of people or market you want to satisfy with your product)Before you choose a trainer, you must have deliberated and decided on what your target audience and market would be. if you intend to design clothes for kids or adults, male or female, casual or formal wears Etc. then your trainer must also know how to.

Having studied on your target audience, you can then choose a trainer that's into design your target audience is willing to buy. In essence, your trainer must be a model who is doing what you already intend to do or have a very good knowledge of what you intend to do or become.

For example, if your intention for wanting to start a fashion design business is to design and produce cloth for kids, you must learn from someone already producing for kids. Not from someone already producing for adults.

A well known and skilled designer in your desired niche will be in the best position to teach and train you on everything you need to know to succeed in fashion business in Nigeria. 
Experience
How many years has the person you want to learn from survived in the fashion design business in Nigeria? Take your time to conduct research on the amount of years the individual has been active in the business. The amount of years will determine how experienced and credible such a person is. And experience is the key and building block in this business.
Customers
There are two aspects to this particular factor
Firstly, your trainer must have high patronage and lots of referrals. In other words you must consider the amount or level of patronization before choosing or settling for that person. The more customers the better it is for you. Because the more the customers your trainer has, the more styles or designs you're likely know during your time of training.

Secondly, He/she must have a good record in customer satisfaction and retention. Which means higher percentage of customers should be satisfied with his or her designs. Meet a few persons that has worked and are still working with the person you want to train you to get some feedback either positive or negative. In summary, try to get some reviews and positivity about the fashion designer you want to learn from before settling for him/her.
Large Scale:
Fashion design business in Nigeria is an ever-changing kind of business and in this type, it involves large production of clothes to satisfy a set market. 
Classes of Large Scale Fashion Desing Business
Factory production
Hand made

Factory production:

This involves the converting materials into cloths by the use of machines which automate the entire process and little human effort is required. Most fashion design business in Nigeria brands run this type of factory cause it more effective and efficient when satisfying a large market.

Please note that you must have an established a brand before starting this type of business or you've made your research and know what your target audience wants, aside from this you also need a business plan which I'll talk about later in this article.
Handmade:
This is not as the name implies because it involves little effort of machines and more of human effort in converting materials into clothes. The reason this is in large scale is because it involves lots of fashion designers employed by an entrepreneur who collects contract from schools, companies and co-operation etc. to handle their wears on occasions or regular wears. Smart entrepreneur tend to go this route because of the simplicity involved all they do is get the contract and hire fashion designers to complete it and then pocket huge margins as profit. Well let's just sayit's all head work.
Fashion Institute
This is the art of imparting the knowledge of fashion designing and all its perimeters into a willing person who wants to learn. This is sometimes tedious and also profitable in the sense that those you teach will likely also be your workers for their period of training and learning.
You could decide to operate this particular business at a large scale or small scale, it all depends on you, but this particular arm can be a lucrative arm of your fashion design business if you want.
Fashion Import And Export
This has been around for a long time now and has been a source of foreign exchange for many Tier 1 countries, but what does this mean for entrepreneurs like you and me? It means we can decide to source for buyers of our fashion wears outside the country and also inside the country. It is a two-way thing since this involves either importing/exporting either way we are doing business. Now let's look at the importation aspect of the fashion design business in Nigeria.
Fashion design Importation

This involves the sourcing of high quality and premium clothes through either online or offline for the sole purpose of making profit through sales. In Nigeria anything foreign is quality that's their perception so as entrepreneur we have to use this to our benefit.

Do you know that some foreign clothes are sold times three (x3) of what they actually cost which means the profit margin is extremely high compared to local fashion designs.

There are two ways to import foreign clothes to Nigeria, you either travel to the country in person or you source for suppliers online for me I'll go with the last option sourcing for suppliers online cause it saves me the flight ticket and stress I'll go through if I wanted to go in person.

Some countries you can buy quality clothes from are the USA, UK, turkey and China, while some we sites to order foreign clothes from are amazon.com, 1688.com, AliExpress, and wish. These are some few but you can do more research on that.

Remember in any type of fashion design business in Nigeria a business plan is always the utmost priority of any business that will last long, more on this later.

Fashion Design Exportation in Nigeria

Similar to importation but this time you're the one producing to export to other countries, to many this type fashion design business in Nigeria may seems dead but if you look at it with the right mindset you'll know this is another way to make some millions.

Exportation involves the creation of fashion designs that will meet international standards in terms of quality and quantity which satisfy a particular fashion trend.

Now here's the idea normally not every white man would want to buyclothes that shows the Nigerian culture but we have Nigerians all over the world who will gladly embrace their culture with their whole heart and the problem is there are no native Nigerian fashion designer to produce what they need, now if you can fill in the gaps you could be the one exporting premium quality native Nigerian wears to different countries at your own price.

I know you get the point now and you want to start your fashion design business in Nigeria now but just hold on and read on till the end I have something special for you.

You can decide to make your business small scale or large scale it all depends on you and the kind of fashion design business in nigeria structure you tend to build. For example you can start an importation business and buy clothes in containers and then sell to who sellers and retailers who will then sell to the final customer Or you can also start an exportation model where you connect potential foreign Nigerian buyers to local fashion designers and then keep the profit on top, which ever you like to start it's your call.
Accessories Creation
This is the art of manufacturing little accessories that complement what we wear every day which are: earrings, neck chains, hair accessories and lots more, there are only a few companies in Nigeria that engage in this business model but this model also stands as a potential avenue to make money in the fashion design business in Nigeria.
Just as Nigerian women love trends of clothes this business also has a trend similar to that but not as huge as the main English wear fashion trend. Companies in this business solely depend on what the market demands because most times Nigerian women and few men who buy Nigerian made accessories tend to compare Nigerian accessories to import ones in terms of quality.
Most Nigerian factories for accessories do compete with their international competitors in terms of quality and at the end of the day only a few stand out. In order to make your mark in this industry, you must be ready to go through the pain of producing quality goods for the market that beats all other competitors in your niche.
Above all, a business plan is paramount in order to sustain stability in the fashion design business in Nigeria and also satisfy the target market. You will also need some luxurious machines, materials and factory space to start.
Fashion Rental
This is an unrecognized and underground fashion design business in Nigeria that has been around for some time now. It involves people renting quality clothes they can't buy in order to satisfy their ego.
You may think it's absurd but most upcoming musicians and actors do this to be recognized by the public also Married couples also do this cause they only need the clothes for a day so it makes lots of sense to rent them rather than buy them.
You may also go into this type of business if you have a high-class boutique and sell quality clothes. It will serve as a recurring income for you as a boutique owner.
Native Fashion
This is one of the oldest forms of fashion design business in Nigeria which has gone through lots of evolution to what we have today. This is the designing or creation of style and design from the Nigerian fabric into clothes that represent the Nigerian culture and beliefs.
All Nigerians are familiar with this type of fashion design and respond well to it and according to research it's the easiest to start with because of the low cost of capital and materials, most people start this model in their house before moving to a shop.
To start this type of fashion design business in Nigeria all you need is to learn and get a sewing machine, very little capital and some materials e.g. Ankara. This model is further divided into three which are:
Native fashion material production
Native fashion retail
Native fashion designing
Native accessories creation
Native accessories
Printing Fashion
Printing fashion is one of the upcoming types of fashion design businesses in Nigeria which has lots of potential for wealth creation in the fashion world. This basically involves the printing of graphical objects into any clothing in order to personalize or bring out the true nature of the person that wears it.
This model is wildly practised all over the world and has been a huge success in many countries. While in Nigeria this business is still in its early stages and is currently gaining ground in the fashion world. People often use the type of clothes for company wear, birthday wear, workwear and lots more.
This model has two ways to make money from it you either start a factory to produce or you leverage on the factory that produces.
Fashion Design Business Plan In Nigeria
t is unprecedented to start a fashion design business in Nigeria without a plan. This is just like jumping from a mountain and expecting to fly, a Fashion design business plan in Nigeria is one of the crucial parts of a business formation requirement which no business can do without. All goal has to be achievable through this plan in order for the plan to be feasible so make sure your business plan capture all organizational goal in general.
We at NaijaCEO provide you with the best business plan that will suit any model of fashion business in Nigeria you wish to start, we will also guild you through the process of the setup of your business from start to stability which is why lots of Nigerian companies and entrepreneur partner with us in order to bring their business dreams to life.
What to expect in our Fashion Design business plan in Nigeria
1. Executive Summary
2. Description of Problem and Solution
   2.2 Vision
   2.3 Mission
   2.4 Value Proposition
   2.5 Business Objectives
   2.6 Critical Success Factor
   2.7 Current Status of Business
   2.8 Legal Requirement
   2.9 Contribution to Local and National Economy
   2.10 Contribution to SDG

3. SWOT Analysis

4. Market Analysis

5. Competitive Analysis & Risk Analysis

6.  Marketing Plan
 6.1  Description of Product (S) or Service (S)
 6.2 Potential challenges in the business industry
 6.3The Opportunity
 6.4Target Market
 6.5Marketing and Sale Strategy

7 .Production Plan/Operational Plan
 7.1 Description of the Location/Factory
 7.2 Raw Materials/consumables
 7.3 Production Equipment/Capital Expenses
 7.4 Equipment/Depreciation Table
 7.5 Pricing strategy
 7.6 Record/Stock Control Process
 7.7 Pre-operating Activities and Expenses

8. Organization Structure and Responsibilities
 8.1 Salary Schedule

9. Financial Plan
 9.1 Start-Up Capital Estimation (Expansion Capital Estimation)
 9.2 Loan Details
 9.3 Business Risk and Mitigating Factor
 9.4 Financial Projections
 9.5 Sales Forecast And Sales Assumption
 9.6 Income Statement (P&L) Account
10. Conclusion
Training And Skill Acquisition
if you are looking on how to start a fashion design business in Nigeria, then you will need to be trained by a professional in that specific field you are willing to build a business, you can follow my guild on tips to consider while choosing a trainer but for some model you can leverage on manpower, machine and money whichever you like will work perfectly with our business plan.
Capital
The root of all business is the capital and the length to which it will grow depends on the capital, fashion design business in Nigeria like any other business also involves capital but it varies from model to model. Capital can be anything used to start a business.
Most types of capital can be easily gotten but when it comes to money it's an entirely different case altogether, this is the most difficult step for upcoming entrepreneurs and companies but in our business plan we will calculate the profit margin you will likely make in your business thereby giving you an insight to how much would be good to invest in your business and how much risk you can bear.
Human Resources
Starting a business is one thing and getting certified and qualified people to work with is another, in the fashion design business in Nigeria, you need creative people who think outside the box in order to make your company stand out from the rest. You must consider lots of factors when choosing people to work with like: credibility, accountability, character and flexibility.
When it comes to people to work with certificate doesn't matter but what matters is what they can offer to the business in question, consider checking our checklist on things to look out for when employing workers.
Materials Needed
Depending on the type of fashion design business in Nigeria you want to start, you will require raw materials in order to produce outstanding work that will win your customers over. So getting the right quality materials for your work will be the greatest good you'll ever do for your business.
There two ways to source raw materials and capital materials which are: international and local sourcing, whichever you choose make it's the right quality that will give you your desired result  My point is adding value to your products by using high-quality materials will make your customers love what you do and refer you to other who might need your service if you make quality product and materials you priority there is no doubt you'll definitely succeed in your fashion design business. Some of the materials needed to start a standard fashion design business in Nigeria are:
Industrial or manual Sewing machine
Shop or a factory site
Generator or plant
Weaving machine
Cloth materials
Measuring tape
Sewing materials
Pressing iron
Embroidery machine
Furniture
Android phone
Miscellaneous
Business Registration
To start a fashion design business in Nigeria without registration is suicidal and a total waste of time except if you're starting out small then it's fine. As a fashion designer, you're expected to register your business with CAC and other government bodies in order to avoid disruption of business during work hours.

Registering your business and making it legal comes with many advantages like selling of shares, limited liability and lots more, this can also give you a chance of being spotted by an investor who will like to invest in your business. In our business plan, we will walk you through how you can register your business stress-free
Location
Location matters a lot in this business because your location will determine your success in the fashion design business in Nigeria. You first have to carry out intensive market research in order to find out where your target audience is located and how best you can reach them.

Visibility is everything in fashion, if they can't see you, they can't buy from you and you make no sales sometimes it is best to target people with high taste of fashion and then follow the trend to win them over.
Marketing
Marketing covers all areas of pre-production, production and delivery so know your target market more than anything else, if you can give the market what it wants then you can rule it.

The fashion business in Nigeria is very competitive so your survival depends solely on your marketing plan and structure, always check on your competitors to know their next plan and also check out what's trending in the market then balance everything and decide on your next design.
Customer Management
One happy customer leads to ten new customers while an unhappy customer leads to the loss of hundred new customers. Prioritize your customers because that's the only way they won't leave you, sometimes make an offer or bonus or give out freebies to entice them, it will go a long way to increase your customer retention rate.
One major problem with the fashion design business in Nigeria is that majority of them don't know how to manage time and this affect their deliverability rate and makes them lose a lot of customers, always deliver your job before or on time this is the best practice you'll need for your business, if your hands are full let the customer know so they will understand don't pill up your workspace with jobs you know you can't deliver on time, it is better to have an understanding customer than a disappointed one.
Fashion Design Business Tycoons In Nigeria And Globally
Lee Alexander McQueen founder of the Alexander McQueen label.
Late Alexander McQueen (1969 – 2010) was a creative British fashion designer who founded his own label in 1992.
He won the British fashion designer of the year back to back in the year 1992, 1997, and also in 2001, 2003 making it 4 wards respectively.
YomiMakun founder of Yomi casual label.
He is a creative design from Lagos Nigeria. Yomi casual won the fashion designer of the year award at the Nigerian youths merit and also city people hottest designer of the year in 2011 amongst many others.
Giorgio Armani founder of an Italian luxury fashion house which designs, manufactures, distributes and retails hauteur couture, ready–to–wear, leather goods, shoes, cosmetics.
Giorgio Armani formed his company, Armani, in 1975. He's worth a whopping $8.1 billion as of 2017. He won the fashion designer CFDA INTERNATIONAL award in 1987.
Females are more into fashion designing than men and sometimes I ask myself where are the head of the house, with the likes of YinkaArolambo C.E.O. MOOFA, American Tory Burch C.E.O. of Tory Burch LLC with a net worth of $800 million and a whole lot of others has made a mark in the fashion world.
Conclusion
Finally we have exposed you to enough information on how to start a fashion business in Nigeria, all you have to do now is to put to work all you have learnt also do not forget to reach out to us for your fashion design business plan in Nigeria