This Logistics and  Haulage Business plan in Nigeria Pdf is regularly updated and can also be used to obtain loans and grants etc.
Logistics And Haulage Business Plan In Nigeria Pdf
Running a Haulage Business in Nigeria can be very profitable and can serve as a source of Passive income for you. It provides one of the finest opportunities to make good money in a very short time. But many Nigerians overlook this business because it is a little bit expensive to start.
Sample Logistics And Haulage Business Plan In Nigeria PDF–
Be excited because If you are interested in starting a Haulage Business in Nigeria or Africa, After reading this article, you will be on your way to starting your own Haulage business in easy and simple steps and once you have a Haulage business plan in Nigeria PDF you are fully equipped to get into the industry.
Table Of Content
Executive Summary
Business Description
Market Overview
Marketing
Sales Forcast
Business Operations
Risk Analysis
Business Conclusion
Executive Summary
Nigeria and South Africa have more than 10,000 businesses that are registered as truckers and haulage service providers, forecasts reveal that the demand for trucking and haulage will double across Africa within the next 10 years there is a huge need to move heavy goods from place to place and trucking remains the only viable way to get this done.
The demand for haulage services keeps increasing despite the number of haulage business companies in Nigeria. This is a result of many business activities requiring logistic solutions of moving items from producers to consumers or sellers to buyers.
Today, the haulage and logistic business have become a lucrative area to venture in simply because virtually most business activities require hauling services of different kinds.
To this end  (Logistics and Haulage business plan in Nigeria) Company is keen on taking advantage of this business opportunity. t6ere is an urgent need for 15-tonne trucks at one of the major (blue chips companies in Nigeria based on Qualitative research and in-depth experience gained from, working with Nestle.
Base on our Little experience the following Projections can be made
Income Projection: The income projected for the first, second, and third-year is as follows: N4, 540, 000, N4, 540, 000, N10, 680, 000. The projected income remains the same for the second year given that the same truck is been used. In the third year, a second truck will be purchased thereby increasing the income by 100%.
Operational Expenses: the projected operational expenses for the first, second, and third-year is as follows: N3, 478, 200, N2, 402, 400, N6, 771, 200. The total amount projected for expenses is based on present realities and projections for the second and third year. An estimated amount of  N188, 000, N200, 000 and N370, 000 will be spent monthly on operational expenses in the first, second, and third year.
Capital/Working Capital Projection: The initial capital budget for the project is N3, 580, 000. This will be spent on purchasing the truck, insurance, permits, etc. In the second year, the projected working capital is N1, 361, 800. this is will be obtained from the projected net profit in year 1 and the depreciation rate of year 1. In the third year, the projected working capital is N2, 779, 400. This will not be sufficient for the purchase of the second truck. An additional amount of N630, 000 will be sourced to acquire the second truck.
Profit and Loss: The net profit in year 1, year 2, and year 3 are N741, 800, N817, 600, N1, 648, 800.  This represents 19% of the total income generated in year 1, 21% in year 2, and 21% in year 3.
BUSINESS DESCRIPTION
COMPANY DESCRIPTION
(Logistics and Haulage business plan in Nigeria) The company is a local indigenous haulage and logistics company. The company came into existence after the identification of haulage and logistics business opportunities in Nigeria. (Haulage business plan in Nigeria) The company focuses on hauling Nestle's finished product from one location to another. The company operates in Lagos, Ogun State and Ibadan
COMPANY SERVICE DESCRIPTION
The core of (Logistics and Haulage business plan in Nigeria PDF) company operation is focused on haulage and logistics. Our clientele is well defined and we clearly understand their expectations having worked in the industry for more than 3 years now. On full commencement of our business operation, Nestle will be our primary client for the next two years after which, the company will expand its services to other organizations.
BUSINESS OWNERSHIP STRUCTURE:
Managing Director / Chief Promoter
Gbenga Micheal
Gbenga has a strong passion for hauling and logistics with adequate experience in business management. Gbenga takes the role of the Managing Director/Truck Supervisor/Accountant/Head of Marketing. Gbenga will be responsible for these positions for the first two years of business operations. By the third year, the business will be ready for the first stage of recruitment and expansion.
ADVISORS
Charles Olatunde
Charles is a Finance/Commercial Executive with over 17 years of experience across different companies and industries, from indigenous companies to multinationals. His track record includes operations startup/strengthening, Finance/Accounting and related areas, Project Management & Information Systems, with experience across several African countries. He retired as the Finance Director of Veed.
Timothy Micah
Mr. Timothy is the Managing Director of Lapo Ventures, a haulage and logistics company. The company currently has over 50 trucks and has been in the haulage and logistics business for over 10 years.
Stanley Onyema
Mr. Stanley-Livingstone is the Managing Partner and Co-founder of Onasis
& Partners Business strategy and Market Communication Department. He is also a highly experienced businessman with investments in oil and gas, transportation, real estate, etc.
LONG TERM AIM OF THE BUSINESS
To build a sustainable and successful haulage and logistics brand recognized as a premium haulage and logistics company in Africa in the next 15 years.
OBJECTIVES
The objectives of the first 3 years include
To own a total of two – Three trucks by the next three years.
To build a sustainable 21st century company.
MARKET OVERVIEW
The transport and logistics business in Nigeria is as old as the nation itself and there is no doubt that the business has contributed in no small way to the economic development of the country. The transport and logistics business plays an important role in most business activities. Efficient transport is an essential component in the production and distribution process – commonly referred to as supply chain logistics.
Nigeria has the largest road network in West Africa and the second largest south of the Sahara, with roughly 108,000 km of surfaced roads. The present paralysis of the rail system in Nigeria has made road transport the only effective means of conveying heavy goods from one point to another within the country. The population is dense and the environment is good. This explains why the road haulage business is one of the most lucrative businesses to begin in Nigeria today.
For the remaining part of this business plan, including the detailed financial analysis, call any of our business plan consultants on 08122230861 or send me an email at chibuezemicahe@gmail.com.
Step On How To Start A Logistics And Haulage Business In Nigeria.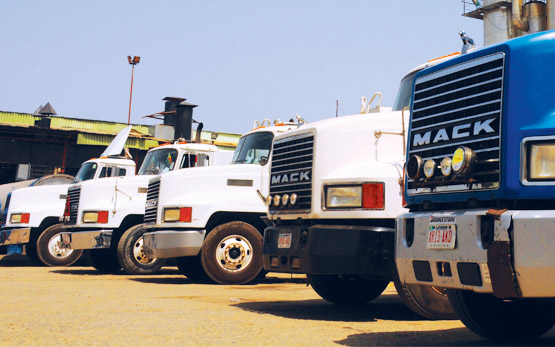 Below Is A Step By Step Guide To Starting Your Own Logistics / Haulage Business In Nigeria
Haulage Business
Haulage and logistics imply the transportation of products from one location in the nation to another. Haulage and logistics also include cross-border operations. It is a business that involves the moving and hauling of commercial goods.
Haulage and logistics services are rendered utilizing vehicles that are fit for lifting large amounts of goods or merchandise at once. Such vehicles are tankers, trailers, cranes, tippers, trucks, and so on.
Economic Impact and Importance of Haulage and Logistics Business in Nigeria
Haulage and logistics include the development of products by both rail and street. However, since the crumple of the rail transport network in Nigeria, street haulage and logistics have led the pace. The nation has enough populace and a decent system of streets
Transportation and distribution network is a vital part of the economy and any serious business. It affects the advancement as well as the welfare of the immense population in Nigeria of around 200 million. Any business looking to strive and deliver customer satisfaction need a good distribution network for their business.
Steps To Start A Haulage And Logistics Business In Nigeria
 Choose a Niche in the Trucking Industry:
To succeed in the Haulage  industry, you must select a niche, because it is very broad. There are different niches in haulage business and the niche you choose would determine the type of vehicles you would need and you start – up costs.

In choosing a niche, some questions must be answered. Questions like,
what kind of product do I want to transport (solid, liquid, or gas)?
Who is my target audience?
Do I want to engage the service of other drivers?
 Can I travel on a particular route? e.t.c.
As soon as you can settle this, deciding on the transport system and mode of operation becomes easy.

Your  Capital
For the trucking business, you need capital and lots of it. Your start-up capital will largely depend on the number of the fleet, you are intending to own. It is therefore important that you write a business plan and have a clear idea of how much, you would need to start the business and weigh your savings to see if you can afford it.
If you do not have enough capital to start you might want to watch my video where i show you where to source for funds for your Haulage and Logistics Business in Nigeria, you have to consider first your credit worthiness and eligibility for borrowed funding… You might also need to have some kind of collacteral unless you are looking to apply for grants

Create A Business Plan
For every business you want to start, there is no substitute for a business plan. A business plan is the documentation of everything that validates the operation of the business. It includes the vision, mission, objectives, goal, financial plan, market research, and product, e.t.c

In creating a haulage business plan in Nigeria, you will need to list the total capital you need and conduct a financial analysis of everything required for the business. At this point, you will know if you can afford the cost of starting and running the business. Otherwise, with the business plan, you can pitch your business idea to financiers and investors. That's one of the reasons a business plan is very important.
4. Register Your Business
When you think about starting a business in Nigeria, you should also consider registering your business. Business registrations are done with Corporate Affairs Commission (CAC). All you need is to choose a unique and catchy business name relating to the service you want to offer. Then, decide if you want to do a sole proprietor registration or a limited liability company and follow the due process.
Doing a business registration can be a bit tasking especially if you do not know how it works, that is why companies like NaijaCEO exist. ReDahlia can guide you through the process and make it happen in the shortest possible time.
5. Rules and Regulations

For starting the haulage business, another important factor that has to be given serious consideration is the legal requirements. You would be required to obtain various licenses and permits and you would also be presented with a set of rules and regulations that must be adhered to. Extensive research should also be conducted on what these rules are and adherence to them has to be ensured.
6. Insurance:
Just like in every business risks are also involved in the Haulage business. You would be dealing with expensive goods which do not belong to you and would have to be conveyed to their destination safely. Putting the fact that you would be travelling over long distances to deliver those goods into consideration, it is rarely possible to predict the things that may or may not happen along the way.
7. Employees and Management;

You have to think about the drivers first because use they are the life wires of haulage business? You need to find professional drivers who would be interested in working with you to promote the business because your driver can make or mar your business. After the drivers, you must think of the marketing and administrative staff too. If your plan is to start a small-sized haulage business, you may be able to handle the administrative and marketing functions yourself but for a larger sized company, you may have to employ staff to support with Management, administrative and clerical duties as well as marketing and promoting the business.
8. Maintenance:
Maintenance issues will come up at a certain point, and when they do, you would need the right maintenance services to put the vehicle back in order again. You would need a very good mechanic to handle repairs of your vehicle. This is necessary because the level of maintenance and quality of servicing your car receive would go a long way to promote the life span of your vehicles. You should find competent automobile repair companies or technicians who can handle the repairs of your vehicles.
9. Business Operation
Once the capital and other aspect are settled, you will need to decide on a mode of operation.
The following three major areas are to be considered as a mode of operation in the haulage business. They are Independent, Contractor/Sub-Contractor and Leasing.
How To Maintain Your Logistics And Haulage Business In Nigeria
Like other businesses in Nigeria, there are downsides to the haulage business. For the truck business, your challenge can be a bad road network, dishonest drivers, lack of truck maintenance, e.t.c 
But For the truck, find out the engine capacity in line with the weight of the goods it can carry. I advise you to stick to a certain number of goods and containers so you don't outweigh the flatbed of your truck and reduce the lifespan don't hesitate to do weekly maintenance for your trucks.
Although bad roads can cause unnecessary wear and tear to the truck, a good driver will know how to handle the truck and make the damage minimal.
I also advise you to come up with a unique value proposition for your business, good Logo and branding, this will help you stand out from the crowd.
Challenges of starting a Logistics and Haulage Business in Nigeria
They include difficulty in obtaining legal haulage documentation, bottlenecks, corruption and bribery. Others are poor state of the roads, bad trucks, dishonest drivers, inexperienced mechanics and highway robbers.
Obtianing Legal Haulage documentation
illegal minor taxes
bribery
Gridlocks
Highway robbers
Inadequate moto spare parts
Conclusion
How Big Is The Haulage Market?
Haulage business is connected almost anything touchable and movable from sands, to goods, building materials, farm products, home appliances etc. This means that if you take a look at your surroundings, you will likely realize that 90% of the things around you got to where they are by means of one Haulage service to another.
The opportunity is there to tap and make good money from Nigeria and only the fast movers will make the most cash. Take action now!
This shows you why and How Lucrative the Logistics and Haulage Business is in Nigeria…
Ready To Start Your Haulage And Logistics Business In Nigeria Or Africa?
Maybe you dream of opening your own Logistics and Haulage Business In Nigeria, but you're still working out the details on how to make that dream a reality.
Well we are the leading Business consulting firm in Nigeria and can help you make the process much easier contact us with 08122230861
Get your Logistics and Haulage  Business Plan in Nigeria PDF document Now!