This Business plan for Fish farming in Nigeria is regularly updated and can also be used to obtain loans and grants etc.
Fish farming is a very profitable business; it is also simple and can be started with small capital.
Lots of Nigerian Youths don't know that fish farming in Nigeria untapped and could change their lives economically if they decide to get into the fish farming business here in Nigeria
Anyone with a small space and can find a market within a locality can engage in fish farming. In fact, with as little as $500 you can start fish farming. In this Fish Farming business plan, we shall discuss how you can successfully set up a fish farming business.
Fish Farming Business Plan In Nigeria –
To enable interested investors and business-minded persons to take advantage of the money-making opportunities in the Fish Farming business in Nigeria, we at NaijaCEO have packaged a comprehensive Business Plan for Fish Farming in Nigeria
1. EXECUTIVE SUMMARY
2. INDUSTRY
3. COMPANY DESCRIPTION
4. MARKET ANALYSIS
5. ECONOMICS OF THE BUSINESS
6. MARKET PLAN
7. DESIGN AND DEVELOPMENT PLAN
8. OPERATIONS PLAN
9. MANAGEMENT TEAM AND COMPANY STRUCTURE
10. FINANCIAL PROJECTIONS
11. GROUP MEMBERS
EXECUTIVE SUMMARY
Liaoncem catfish business will be established to meet the fish demand in the community. It will be located in Owerri Imo state. The main economic significance of the business is to contribute towards narrowing down the fish demand-supply gap deficit in Nigeria as well as the supply of proteins and micronutrients for feeding the teeming population Imo State, South East and Nigeria at large.
The business would be managed by Micah Erumaka, Hezron and Valio Jacob who are all part of the management team. They are all experienced in the field of fish farming and have managed different businesses across the state.
The catfish industry in Nigeria and Africa at Large in untapped and the fish farming business is a lucrative business as the demand for fish in the country is growing geometrically, the opportunity to expand is necessary because of the growing demand for fish and due to some health benefits attached to the consumption of fish as compared to consumption of meat. With our dominance, and being the only and pioneering fish farm in this locality, we would flood the whole market with our fish. The business will be a partnership with all partners required to contribute capital according to an agreed percentage (40%, 35%, 25%) respectively.
The risk of the business is mainly getting a market and we have already identified our target market. The cost-benefit analysis of this fish farming business plan shows that in the startup year, with 1700 fingerlings in stock and projected sales of 1500 adult fish in one circle which is half a year, we would make N1, 000,000. This implies that about N2,000,000 is realizable annually for two (2) production cycles with a return on investment (ROI) of 100% which indicates that the project is very much feasible, viable and very much profitable and as such worth investing.
INDUSTRY ANALYSIS
ABOUT THE FISH INDUSTRY IN NIGERIA.
The fish industry involves the cultivation and marketing of fish in a controlled environment for all or part of their life cycle. The catfish industry in Nigeria is one of the fast-growing segments of the agriculture fish market today. The growth potential for the catfish market is at its strongest level ever. The demand for catfish is increasing due to the ever-increasing health consciousness of consumers. Per capita consumption of fish in Nigeria has increased at a very high level. These increases in demand are stressing the world's natural fisheries, which are generally considered to be at or near their maximum sustainable yield, thus increasing the demand for the catfish raised in aquaculture facilities. Not to mention the increasing demand in our society for locally grown products.
GROWTH RATE, INDUSTRY SIZE, OPPORTUNITY AND SALES PROJECTION:
The demand for fish according to the federal ministry of agriculture was 9.1 million tons in 2015while domestic production was 3.5 million tons. The Nigerian Federal Ministry of Agriculture estimates that the demand for fish in the nation is projected to grow from its current demand by 30%.
This deficit was partly augmented by the massive importation of fish of about 1,200,000 tons. This is a big drawback of our scarce foreign exchange. This still left a huge deficit of 4,400,000 tons, hence the concerted effort to ensure self-sufficiency in fish production through aquaculture in Nigeria.
The demand for Fish in the country is currently estimated at about 11,830,000 million tons annually, as against the local annual production of just 3,500,000 metric tons, giving a demand-supply gap of about 8,330,000 million tons. It is very clear that the demand is far higher than the supply.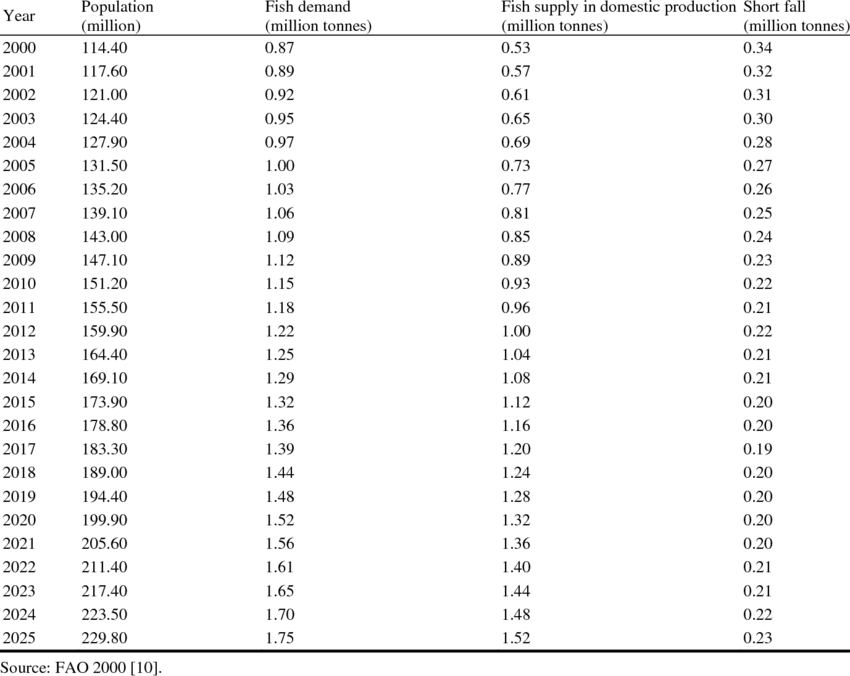 COMPANY DESCRIPTION
HISTORY OF THE COMPANY
The company is a new company which was recently incorporated.The idea for this Business Plan for Fish Farming in Nigeria emanated from the intent to make investors see the untapped opportunity in Nigeria, But the idea to venture into fish farming (Catfish) came from the urge to fill the demand for fish in this environment.
OUR MISSION:
To provide healthy fish of high nutritional value and affordable prices that improve people's lives while improving the lives and livelihood of African populace.
PRODUCTS AND SERVICES
Production of catfish is one business that demands care and expertise, the main expenditure in the production cycle is the fish feed and the staff salary. It takes a life cycle of about six months to get to maturity when feeding adequately.
Catfish is an indigenous spice. As a result of the growing cost of buying meat, this has created much demand for fish. This is the market we intend to fill by taking our product (Catfish) to the market.
Catfish species we would offer:
Clariasnigro-digitatus
Heteroclarias
Clariasgariepinus
Heterobranchusbidorsalis
Heterobranchussp
Clariasspp
How To Go Into Fish Farming Business In Nigeria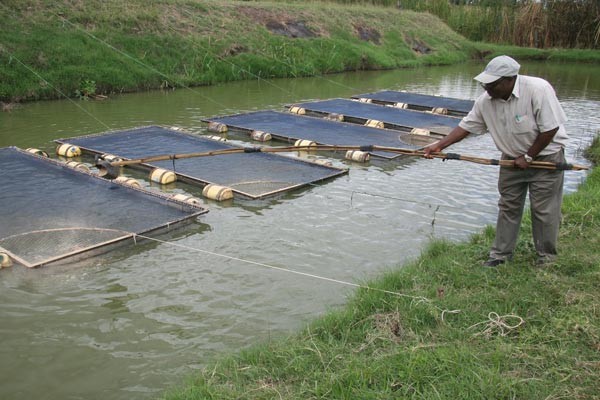 Step one: Come Up With a Fish Farming Business Plan in Nigeria doc, a vital step.
Here, one has to determine whether one wants to go into a big or small-scale commercial
venture, secondly, the pond system to adopt, Re-circulatory system, earthen pond or concrete/plastic pond or both. Then come up with a comprehensive Fish Farming Business plan In Nigeria doc (document).
Step two: Land: Acquire land in a suitable location. However, give consideration to the land's closeness to market, access to good roads and cheap labour.
Step Three: Water supply Source for your Fish Farming Business In Nigeria
The provision of a good and dependable water supply is a crucial factor to consider when starting a fish farm business. To cut costs, you can situate your pond near a tap or stream or consider digging a borehole. It's advised to ensure that clean water is available all the time because fish depends on water for all their needs.
The best water for fish farming is from boreholes. One or two must be sunk to guarantee a steady water supply. The water system must not fail.
Step Four: Construction of pond:
The next step is to either construct a concrete pond or create a pond using plastic or tarpaulin pond types. If you want to start with a concrete pond, hire the service of a professional. However, with the plastic or tarpaulin pond types, you can be flexible as construction is pretty straightforward. In terms of cost, the concrete pond is much expensive than other pond types.
For example, to construct a 17 x 15ft concrete pond on a quarter plot of land usually costs between N100,000 to N300,000. An entrepreneur planning to start a small scale fish business on a tight budget can opt for either plastic tanks or tarpaulin pond types. Tarpaulin/plastic pond types are not only less expensive, they are also easily movable. Typically, tarpaulin ponds of size 17 x 15ft would cost between N70,000 to N90,000. These prices however vary based on the buyer's pricing capabilities and the quality of the tarpaulin.
Here Are Details Of Catfish Farming In Fish Farming Business Plan In Nigeria
1. Stable supply and Demand
As one of the highest sources of protein, catfish is widely consumed by Nigerians on a somewhat large scale. This means that demand for this product is mainly stable all year round and since fishes grow rapidly, there will always be enough to supply. Investing in fish farming will definitely incur large and stable stream of profits over time.
2. Top consumer choice
CatFish is relatively cheaper than most meat products and hence, it sells faster. It is therefore an attractive venture as it remains the top choice for consumers in terms of affordability.
3. Steady Growth pattern
The growth pattern in fish is very fast and easy to understand. Farmers can also quicken the growth process of the fishes by giving them certain growth-enhancing feeds. This characteristic of fish ensures that farmers can harvest and sell in a very short period of time.
4. High Revenue
With proper planning and good management, fish farming can be very profitable to farmers. With N2 million as capital or investment, one could gain up to N3 million worth of profit in just six months.
5. Easy to maintain
With adequate knowledge, expertise and resources, fishes can be very easy to handle and maintain.
Without a doubt, fish farming is one of the most lucrative agricultural business ventures. With a brilliant business plan and the much-needed resources and expertise, one can easily obtain great success through fish farming.
Ready To Start Your Fish Farming Business In Nigeria Or Africa?
Maybe you dream of opening your own Fish Farming Business, but you're still working out the details on how to make that dream a reality.

Well we are the leading Business consulting firm in Nigeria and can help you make the process much easier contact us with 08122230861
Get your Business Plan On fish farming in Nigeria